CloneManager
Online and Offline Replication and Migration

CloneManager is a system replication and migration software that creates identical copies of critical systems that can be instantly used in the event of a disaster.
CloneManager provides continuous replication and migration for your entire estate, from legacy systems running on physical machines through to virtual and cloud environments, giving you confidence that your critical systems, operating systems and data will be protected in the event of a disaster.
Benefit from CloneManager's continuous replication, enhanced testing and failover and failback features to avoid disruption to your critical workloads, protect your systems and save resources and costs.
Enable our new block based transport mechanism to significantly lower RPOs when compared to our traditional file based transport mechanism.
CloneManager offline replication allows you to migrate your existing physical, virtual or cloud machine directly to a disk inside Microsoft Azure blob storage, Oracle Cloud blob storage, Amazon S3 storage or any other S3 compatible storage location. Saving you the hassle and associated costs of a target machine.
Here's how our CloneManager Online software helped our US healthcare customer stay operational with continual replication for DR. You can download this case study as a pdf here.
Read here how Tata Consultancy used CloneManager to migrate over six hundred systems into a new virtual environment.
Book a free trial of CloneManager Online or Offline here.
You can see the key differences between Online & Offline replication in the image below.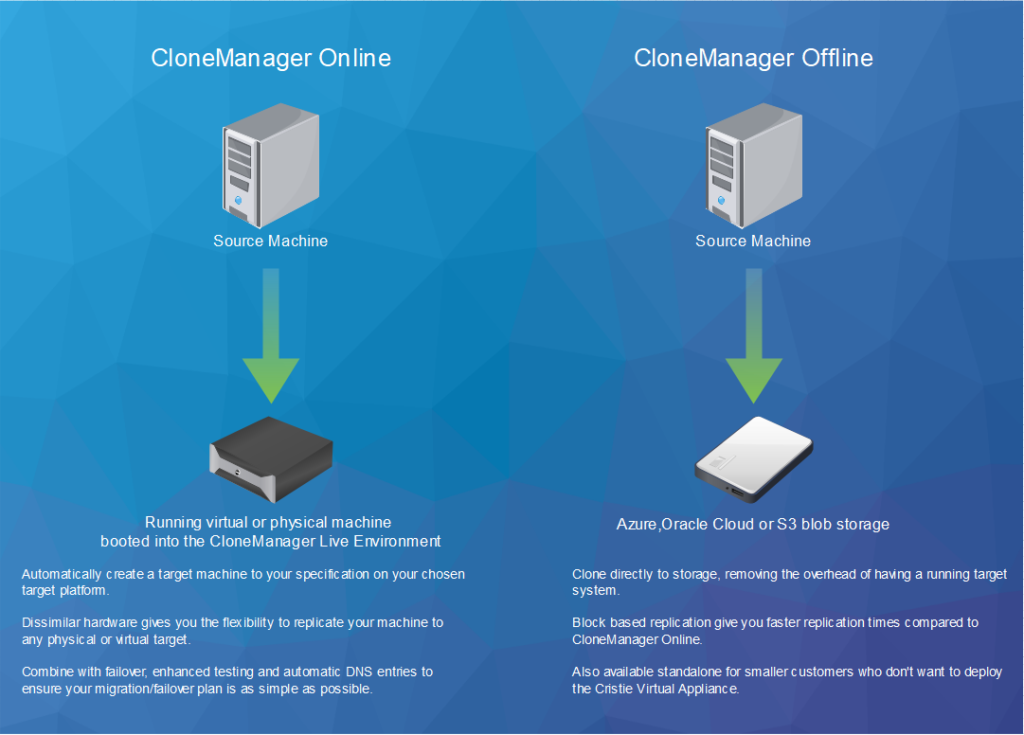 | Highlights | Features | Benefits |
| --- | --- | --- |
| Live replication & periodic syncs | Real-time replication of live systems and fully automated scheduled periodic syncs between the source and target system; only changed data will be copied | Real-time and up-to-date system replications. Critical workloads and systems are thoroughly resilient to system disruption |
| Offline replication | Clone directly to a target disk instead of a running virtual or physical machine | Saves you the hassle and cost of maintaining a full target system |
| File or block based replication | Toggle between traditional file or new block based replication | Block based replication can significantly lower your RPOs when compared to file based replication |
| Flexible replication targets | Replicate to a range of system targets, including physical, virtual, and cloud environments | Reinstate vital systems in a matter of minutes. Flexibility and control over where you move/ store your servers |
| Enhanced testing | Ability to create a test environment even on physical systems without interrupting continuous replication. | Ability to run DR testing on the target system without interrupting replication |
| Failover and failback | Monitoring of the source system to automatically failover if an outage is detected | This significantly improves system availability. |
| Replicated system is identical | Replicate entire workloads including: OS, applications, data and configuration information | Assurance that the replicated machine is identical to the original |
| Fast performance | Meet time/ data restore objectives and minimize impact on production systems with bandwidth throttling | Minimize recovery time objectives (RTOs) |
| Point in time snapshots | If corrupt data is replicated to the target system, simply roll back to the last successful snapshot | Improve recovery point objectives (RPOs) |
| Simple deployment and remote management | Manage multiple, simultaneous system replications on site, or remotely | Manage the protection of multiple systems, environments and operating systems from a single interface |
| Disaster recovery testing | Simulate a DR scenario by failing over live systems and instantly powering on their Hot Standby counterparts | Meet regulatory compliance and provide reassurance that systems are recoverable |
| Centralised management | Deployment, configuration and licensing from a simple, intuitive interface | Dashboards provide an overview of replication and migration processes |
CloneManager is the best product I have found for server disaster recovery,
by keeping the DR side up-to-date with the production servers.

Senior Systems Administrator, Global supplier to automotive industry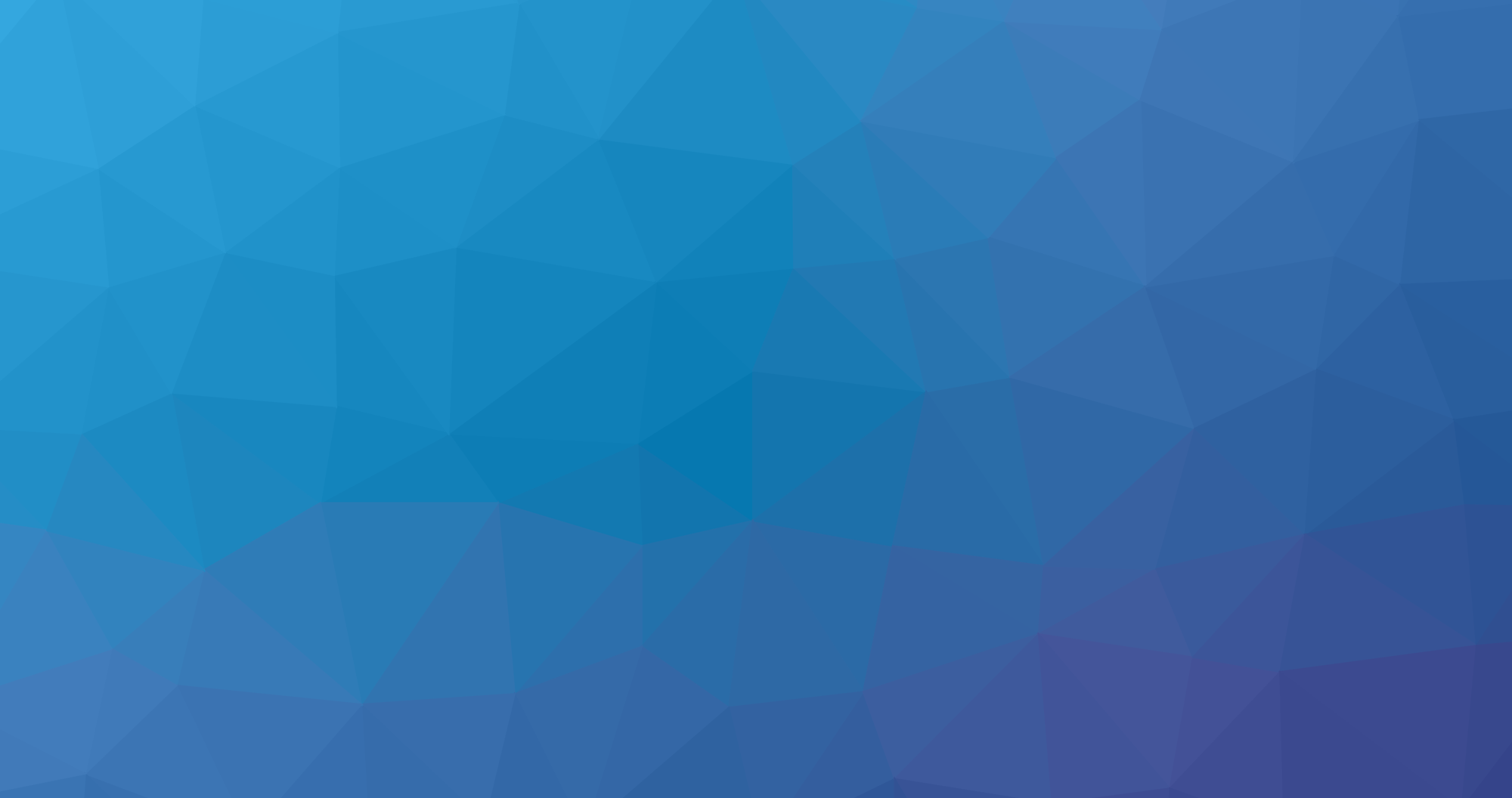 Dissimilar Environments
With our unique dissimilar environment technology, you can replicate to many physical, cloud or virtual environments.
Sync
Transfer the bulk of your data in the first replication followed by frequent fast "syncs" to keep your target up to date without performing another full replication.
Secure
Enable encryption to ensure your data is replicated securely.
Product Support
| Type | Product | Product Version | Cristie | From | To | Notes |
| --- | --- | --- | --- | --- | --- | --- |
| Operating System | Windows Server | 2008 R2 | CloneManager | 3.5 | 8.7 | |
| Operating System | Red Hat Enterprise Linux | 7 | CloneManager | 3.5 | | No block based replication support |
| Operating System | Red Hat Enterprise Linux | 6 | CloneManager | 3.5 | | No block based replication support |
| Operating System | Red Hat Enterprise Linux | 5 | CloneManager | 3.5 | 8.7 | No block based replication support |
| Operating System | Windows Server | 2022 | CloneManager | 9.3.2 | | |
| Operating System | Windows Server | 2019 | CloneManager | 3.6 | | |
| Operating System | Windows Server | 2016 | CloneManager | 3.5 | | |
| Operating System | Windows Server | 2012 R2 | CloneManager | 3.5 | | |
| Operating System | Windows Server | 2012 | CloneManager | 3.5 | | |
| Operating System | SUSE Linux Enterprise Server | 12 | CloneManager | 3.5 | | No block based replication support |
| Operating System | SUSE Linux Enterprise Server | 11 | CloneManager | 3.5 | | No block based replication support |
| Operating System | SUSE Linux Enterprise Server | 10 | CloneManager | 3.5 | 8.5 | |
| Operating System | Oracle Linux | 8 | CloneManager | 8.7 | | |
| Operating System | Oracle Linux | 7 | CloneManager | 3.5 | | No block based replication support |
| Operating System | Oracle Linux | 6 | CloneManager | 3.5 | | No block based replication support |
| Operating System | CentOS Linux | 8 | CloneManager | 8.7 | | |
| Operating System | CentOS Linux | 7 | CloneManager | 3.5 | | No block based replication support |
| Operating System | CentOS Linux | 6 | CloneManager | 3.5 | | No block based replication support |
| Operating System | CentOS Linux | 5 | CloneManager | 3.5 | 8.6.2 | |
| Operating System | Red Hat Enterprise Linux | 8 | CloneManager | 3.8 | | |
| Operating System | Ubuntu | 20.04 LTS | CloneManager | 3.5 | | No block based replication support |
| Operating System | Ubuntu | 18.04 LTS | CloneManager | 3.5 | | No block based replication support |
| Operating System | Ubuntu | 16.04 LTS | CloneManager | 3.5 | 8.7 | |
| Operating System | SUSE Linux Enterprise Server | 15 | CloneManager | 3.5 | | No block based replication support |
| Virtualisation | Oracle Cloud Infrastructure | | CloneManager | 3.5 | | |
| Virtualisation | Amazon Elastic Compute Cloud (EC2) | | CloneManager | 3.5 | | |
| Virtualisation | VMware vSphere | 7 | CloneManager | 8.7 | | |
| Virtualisation | VMware vSphere | 6.7 | CloneManager | 3.5 | | |
| Virtualisation | VMware vSphere | 6.5 | CloneManager | 3.5 | | |
| Virtualisation | VMware vSphere | 6 | CloneManager | 3.5 | | |
| Virtualisation | VMware vSphere | 5.5 | CloneManager | 3.5 | 8.6 | |
| Virtualisation | Microsoft Hyper-V | 2016 | CloneManager | 3.5 | | |
| Virtualisation | Microsoft Hyper-V | 2012 R2 | CloneManager | 3.5 | | |
| Virtualisation | Microsoft Hyper-V | 2012 | CloneManager | 3.5 | | |
| Virtualisation | Microsoft Hyper-V | 2008 R2 | CloneManager | 3.5 | 8.7 | |
| Virtualisation | Microsoft Azure | | CloneManager | 3.5 | | |