Team focus; Meet Adam Tilley, Delivery Manager
Getting the right quality product, with the right features out to our customers as quickly and efficiently as possible is quite a challenge. Our Delivery Manager plays a pivotal role in ensuring this and so, this team focus is on our Agile Guru Adam Tilley.
Adam Tilley, Delivery Manager, Agile Enthusiast
Adam is one of the newer members here at Cristie, but he has already made a great impact; implementing numerous positive additions and an agile working environment from the start. In a short time, Adam has transformed Cristie's delivery management and reinvented the Cristie Virtual Appliance.
We asked Adam our 10 questions to find out more about him, so let's see what he had to say…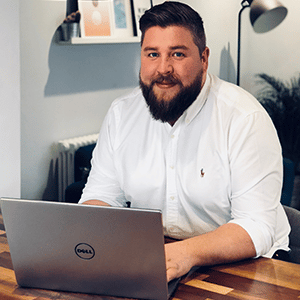 1. Years at Cristie: 0.8
2. Years in Software/IT/Delivery Management: 10
3. Biggest success to date at Cristie: I'm proud of the team's work to deliver the new & vastly improved Cristie VA
4. Favourite Cristie product and why: Not one product in particular, but the Cristie VA allows our users to interact with a wide range of Cristie products all under one, easy-to-use interface
5. Where do you think Cristie can make a difference in the market: Cristie's strength is in its heritage and its people! For example – CBMR Windows celebrates its 20th Birthday this year and we still have many of the same technical resources involved with that first release, as our upcoming CBMR windows release. As shown, our products stand the test of time and our knowledge pool is unparalleled. Coupled with the personal touch that only a company like Cristie can offer; I believe it gives Cristie the edge so that our customers know they can truly depend on us when they need us
6. Where/how do you help our customers: My role is to facilitate and enable innovation. To ensure that as a company, we deliver the right product to you in a timely manner and to the highest level of quality
7. A little bit about you: I'm someone who loves improving and innovating (bit of an Agile Evangelist). I get a buzz out of making things great – be it people, process, or product
I firmly believe that as a Delivery Manager, my role is to enable the talented technical team around me to be brilliant, and not to stifle them in process or policy. My professional background is varied, but the foundation is technical, cutting my teeth as a .Net developer and studying Computing Informatics at the University of Plymouth, before becoming a Change Management specialist for a world-renowned engineering firm.
My passion however will always be software. I find the ability to create beautiful, simple solutions for complex real problems, quickly and without the need for expensive machinery incredibly exciting. I'm still the new boy in the office, but excited to see what innovative features and products we can deliver together as a technical team
8. Interesting fact about yourself: I once got paid to play rugby for the Royal Navy Veterans Side on an all-expenses paid tour to Cyprus (despite never being in the Navy and being 19 at the time)
9. Quirky fact about yourself: My favourite movie is Top Gun, even been known to dress up in the full Navy Whites! In fact, after the last song had played at my wedding, my friends and I re-enacted a famous scene, serenading my wife with 'You've lost that loving feeling'
10. Favourite food: I'm a bit of a foody and I love to try anything that's been prepared with thought and consideration; in particular, I have a soft spot for spicy food
The Cristie VA
If Adam has you intrigued about the new and improved Cristie VA, click here to discover more >
---