Coming soon is Cristie's new simple back-up solution for Virtual Machines running on vSphere, Protect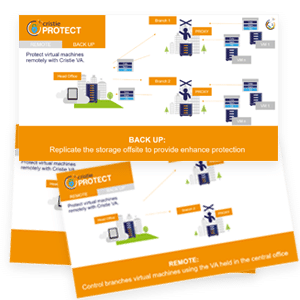 Protect  gives users the ability to protect multiple VMs across multiple Hosts from a centralized console, maintaining regular or continuous consistent back-ups, that can be recovered rapidly when needed. Perform complete VM restores as well as single file recovery, depending on user requirements.
The solution is scalable up to thousands of VMs and designed for optimal network traffic and storage efficiency by balancing back-ups through a series of self-deploying/managing proxies. Recovery times are rapid, so ensuring Recovery Time Objectives (RTOs) are met.
Backing up to a stateless proxy which can either be remote or local to minimise impact on production network. With the option to replicate the proxy storage offsite, this provides enhanced protection.
The frequency of the back-ups is controllable at VM level (if required) from intervals of 3 hours up to monthly. The granularity and independence of the back-up schedules ensures you can meet your desired Recovery Point Objectives (RPOs).
Protect  will be released shortly and we are currently looking for customers to participate in our early adopters programme. If you are interested, get in touch by emailing productmanagement@cristie.com or fill in the contact us form here.