The Cristie VA is an easy to use central management console which provides a unified user experience for the entire range of our software. As part of our agile methodically, our software is continuously evolving allowing us to provide new versions more frequently.
One of our strengths is the ability to react to our customers' needs. As we work towards a continuous delivery model, this allows for us to respond to customer feedback faster than ever before. This principle is harnessed within the new and improved Cristie VA, such as the upgrade functionality; it allows users to take benefit of new features quickly as they become available, simply by clicking update.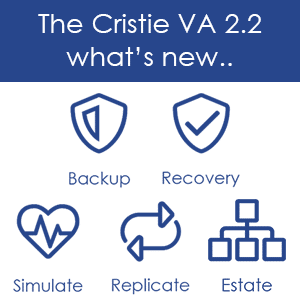 Headline enhancements
Our latest release includes volumes of new functionality which brings with it a wealth of benefits. Some of the key highlights include:
New GUI – putting simplicity and user experience central in our design
Integration of TBMR and NBMR – allowing users to recover and simulate IBM Spectrum Protect & EMC Networker recoveries
Centralised Deployment & Licencing – allowing customers to deploy CBMR, NBMR and TBMR across their estate
Improved replication and migration experience
Increased P4VM capabilities including: Offsite Replication, Improved Consolidation Speed & Pre-Freeze, Post-Thaw scripting
Job Management – the ability to perform key actions at a consolidated level
White Labelling – customers can now configure the VA to fit their brand
Visual Reporting – new dashboards provide real time data to users, to aid their management and reporting
For more information about the Cristie VA click here.
Please contact us if you would like to speak to one of the team or see a software demonstration. Alternatively, request a free trial here.